It is a long parka which can be worn warmly and comfortably when going out on a chilly winter morning or after outdoor activities. The lightweight polyester material and down-filling provide warm and cozy coverage and wrapped in a blanket. 

Wide body, straight fit with a straight silhouette 
Long leg length 
Zip front zip, snap button at hem
For Unisex
True to Size 
Material Surface: 100% Polyester
Create an account and earn $10!
Return & Exchange
You can exchange or return the size and image differences in our shop,
-You can exchange size for free only once.
-Damaged items are not refundable.
-Refunds are not available for products that have lost their tags.
Stock Info.
- Please be sure to contact us before purchasing to avoid fluctuations in stock and out of stock.
- The product inventory fluctuates greatly, and in some cases it may be sold out after contacting us.
- Please note that if you have enough time between your inquiry and the formal order, your desired size may be "sold out" in many cases.
- If the item is sold out after ordering, a full refund will be issued. Please acknowledge it beforehand.
- If the purchase price fluctuates greatly due to a change in the buyer, etc., the product price may be changed. Please acknowledge it beforehand.
Because there is little inventory, it may be sold out immediately.
Recommend your order immediately after your inquiry because it is a fast inventory rotation! !
Cancellation fee
Cancellation due to buyer's change of mind will be refunded after excluding 4% PayPal fee.
Please think carefully when canceling.
All products of Hallyu Mart are genuine. Buy without worrying.
Customer Reviews
01/29/2019
sok hui Judy s.
I was very glad to have found Hallyu Mart. Been longing to buy the Long Adidas Parka ever since I saw it being worn by Celebrities on my favourite K-dramas. No way that I could get it in Singapore as it is only available in Seoul. No plan to visit Seoul so I tried to search online and logged onto Adidas Seoul to see if they deliver to Singapore. Was terribly disappointed as they don't. A day later, Hallyu Mart appeared on my Facebook (ad) and I saw the Parka that I was looking for. Immediately, I bought it and was overwhelmed with happiness when I found out that they can deliver within 4 working days and was totally free shipping!! The delivery arrived just in time for my trip to Prague and saved me from the freezing cold. The jacket arrived in good condition and the size fitted me like a T. This was the only Jacket I don on and it kept me warm throughout my 2 weeks trip. Thank you Hallyu!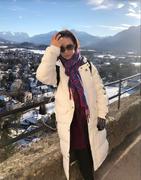 12/05/2019
Davide V.
Germany
Blackpink adidas 3STR Long down parka
It was for my uncle he bought it in size XXL and it's perfect he loves it. Recommend buying a size bigger
11/30/2019
Vanessa L.
New Zealand
perfect jacket
shipping was super fast, it came within a couple days with express shipping. item was neatly packaged and one of my favourite jackets to wear when its cold. i bought a small and am 5 ft 1 and its the perfect length. nice and plain which i like
The product was as expected. Well packaged, good quality. The white stripe isn't as white as I thought, but I still like it. I'm on the short side, so the jacket is a tad long on me. It is very comfortable and warm. I wouldn't wear it in less than 15 degrees, however. Shipped and arrived faster than I thought, considering it is coming from S. Korea.