BT21  Cleansing Band
Polyester 
Size: 230mm x 125mm
Create an account and earn $10!
Return & Exchange
You can exchange or return the size and image differences in our shop,
-You can exchange size for free only once.
-Damaged items are not refundable.
-Refunds are not available for products that have lost their tags.
Stock Info.
- Please be sure to contact us before purchasing to avoid fluctuations in stock and out of stock.
- The product inventory fluctuates greatly, and in some cases it may be sold out after contacting us.
- Please note that if you have enough time between your inquiry and the formal order, your desired size may be "sold out" in many cases.
- If the item is sold out after ordering, a full refund will be issued. Please acknowledge it beforehand.
- If the purchase price fluctuates greatly due to a change in the buyer, etc., the product price may be changed. Please acknowledge it beforehand.
Because there is little inventory, it may be sold out immediately.
Recommend your order immediately after your inquiry because it is a fast inventory rotation! !
Cancellation fee
Cancellation due to buyer's change of mind will be refunded after excluding 4% PayPal fee.
Please think carefully when canceling.
All products of Hallyu Mart are genuine. Buy without worrying.
Customer Reviews
I'm so happy with my product! It is an authentic BT21 item and I was especially please with how quickly it arrived to my home. Although this isn't really an item that can be damaged, I appreciated that the headband's box came wrapped in bubble wrap. The band stretches pretty far so I don't find it to fit too tight at all; it fits just right.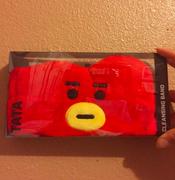 I love koya, it's wonderful