BTS Jhope Mack barry Bucket hat | Mic drop
3sold of 1
This product will only be shipped if at least 1 are supported by September 25, 2020 06:18 (Seoul)
Calculating time remaining
BTS Jhope Macbarry Bucket hat
Unisex
Made in Korea
Free Size
Cotton 100%
FREE worldwide Shipping
 Size:
Grith: 58~60cm (22.8in~23.6in)
Height:8cm (3.1in)
Visor Length:6cm (2.3in)
Create an account and earn $10!
Return & Exchange
You can exchange or return the size and image differences in our shop,
-You can exchange size for free only once.
-Damaged items are not refundable.
-Refunds are not available for products that have lost their tags.
Stock Info.
- Please be sure to contact us before purchasing to avoid fluctuations in stock and out of stock.
- The product inventory fluctuates greatly, and in some cases it may be sold out after contacting us.
- Please note that if you have enough time between your inquiry and the formal order, your desired size may be "sold out" in many cases.
- If the item is sold out after ordering, a full refund will be issued. Please acknowledge it beforehand.
- If the purchase price fluctuates greatly due to a change in the buyer, etc., the product price may be changed. Please acknowledge it beforehand.
Because there is little inventory, it may be sold out immediately.
Recommend your order immediately after your inquiry because it is a fast inventory rotation! !
Cancellation fee
Cancellation due to buyer's change of mind will be refunded after excluding 4% PayPal fee.
Please think carefully when canceling.
All products of Hallyu Mart are genuine. Buy without worrying.
Customer Reviews
I gave it to my sister as a gift because she adores BTS and she loves it very much. It is a perfect fit and matches her style. She loves Kpop fashion and the bucket hat makes her more Korean looking. The material is nice, and it's very comfortable to wear. First bucket hat must have for her and she adores it. <3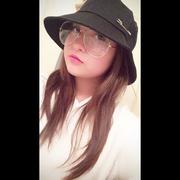 11/06/2019
Anonymous
United States
Mack Barry bucket hat
Love the hat - great quality and received quickly!
10/25/2019
Anonymous
United States
great!
it was great and fitted super well
I am now a certified rapper.
It was like I became the hip-hop master after trying it out. I got better at rapping and my livelihood became better, I won at the casino and now I'm rich and famous, Karen please don't leave me. On a serious note, I got the hat quicker than what I expected, it did not have a weird smell which was something I expected for buying clothes from somewhere far, and I got the hat before I received a message that it was delivered. If you're a rap artist like I totally am, you should buy the hat. It IS pricey when you look at it, but the quality is much better than the ones I've been browsing.