Congratulation! BTS Love Yourself 轉 Tear Version! | giveaway
IMPORTANT: All products are purchased directly from S.Korea department stores and official online stores and shipped to you. Occasionally, it may be out of stock after ordering.
---
*We also offer proxy purchases. If you want, go here
---
NOW ON SALE HURRY UP: Available in Stock 10% OFF
BTS Love Yourself 轉 Tear Version CD+Folded Poster Random

-Photo Book + Mini Book + Photo Card+ Special Photocard +CD + Standing Photo + 1folded Poster (1 of 4version)
-Bighit Entertainment
-Provide Tracking Number
Release Date: 05.18.2018 
If you want to know the trend of Korean fashion, pay attention to Jungkook!
Who is the best-dressed member of BTS? All have great style. But as everyone already knows, you could call it Jungkook. When he wears it, it quickly becomes out of stock. Even if you want to buy, you have to wait days or months before you can buy it. I ranked Jungkook's outfits, which were prepared at the Hallyu Mart, which were controversial.
 Notice: Read to the end a giveaway awaits you.
I styled these sneakers with some ripped, light-blue jeans, and a slightly cropped, navy cricket, cable-knit jumper, that had yellow details around the edges. I am a big fan of the collegiate, varsity style, so these shoes fit my wardrobe perfectly!
For my review pics I paired it with a black bum bag, chain boots and leggings. I feel both cute and sexy in this look. 
Customer Reviews
Write a Review
Ask a Question
I love the album because all the songs are great... my favorite is probably anpanman it reminds me a lot of Go go but in a way this album shows how they've grown in a good way because of the more effort they keep putting in on each album. Their fan base has grown even more and it shows like they've said that language has no barrier in music because we all have feelings.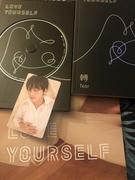 I love the whole TEAR album and I can't even pick which one of the songs are my favourite. BTS makes songs that have such beautiful and deep meanings. BTS are the people who make me laugh, cry and proud. Also I love Armies, their just as precious as BTS.
the songs in the albums are just so awesome and i can't stop listening to them! even the packaging itself is just so beautiful, just like an actual flower. bangtan never seem to fail to amaze me and the rest of the armys. thank you hallyumart for giving us this opportunity and also thank you for being an awesome online korean store!
THIS ALBUM WAS SO GOOD ALL OF THEM POPPED OFF OKAY