Congratulation! BTS Love Yourself 轉 Tear Version! | giveaway
---
BTS Love Yourself 轉 Tear Version CD+Folded Poster Random

-Photo Book + Mini Book + Photo Card+ Special Photocard +CD + Standing Photo + 1folded Poster (1 of 4version)
-Bighit Entertainment
-Provide Tracking Number
Release Date: 05.18.2018 
Customer Reviews
Write a Review
Ask a Question
I love the album because all the songs are great... my favorite is probably anpanman it reminds me a lot of Go go but in a way this album shows how they've grown in a good way because of the more effort they keep putting in on each album. Their fan base has grown even more and it shows like they've said that language has no barrier in music because we all have feelings.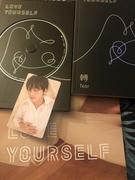 I love the whole TEAR album and I can't even pick which one of the songs are my favourite. BTS makes songs that have such beautiful and deep meanings. BTS are the people who make me laugh, cry and proud. Also I love Armies, their just as precious as BTS.
the songs in the albums are just so awesome and i can't stop listening to them! even the packaging itself is just so beautiful, just like an actual flower. bangtan never seem to fail to amaze me and the rest of the armys. thank you hallyumart for giving us this opportunity and also thank you for being an awesome online korean store!
THIS ALBUM WAS SO GOOD ALL OF THEM POPPED OFF OKAY