Hyuna x Puma Leadcat YLM Lite Sandal White 37073303
Size
WUS 5.5 / MUS 4 / EU 35.5 / UK 3 / JP 22
WUS 6.5 / MUS 5 / EU 37 / UK 4 / JP 23
WUS 7.5 / MUS 6 / EU 38 / UK 5 / JP 24
WUS 8.5 / MUS 7 / EU 39 / UK 6 / JP 25
WUS 9.5 / MUS 8 / EU 40 / UK 7 / JP 26
WUS 10.5 / MUS 9 / EU 41 / UK 8 / JP 27
WUS 11.5 / MUS 10 / EU 42 / UK 9 / JP 28
Color
Customer Reviews
Write a Review
Ask a Question
13 June 2019
kennedie-fiona h.
I recommend this product
Absolutely love them, gonna wear em all the time
I absolutely love these sandals, I really wanted them since I saw them come out. Being able to get a LEGITIMATE pair of these was a god send. Only downside was I ordered them a month ago and they only came today. Usually when I order from Korea it comes in 3 weeks but I'm guessing it took longer because it shipped to turkey and THEN to England. So next time I order I will be ordering way in advance.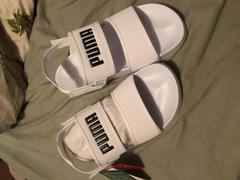 100% AUTHENTIC
Don't buy fakes anywhere
FAST SHIPPING by DHL EXPRESS
WORLDWIDE SHIPPING FROM KOREA